LAVISHY: Toronto designer label, Toronto gift shop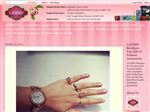 http://lavishy.blogspot.com
The blog about Lavishy Boutique--Toronto designer label LAVISHY's boutique. We talk about our new products, our designs, our press coverage and special events.
Blog Posts
on Oct 12, 2012LOVE RINGSPlease visit LAVISHY BOUTIQUE to check out these trendy rings.
Lavishy Boutique- New Summer Bags on May 16, 2012 Please visit Lavishy Boutique at 2525 Yonge St for detail.
Lavishy Boutique- Pre Mother's Day Special on May 9, 2012All Handbags 20% Off!!! in store only~Please visit 2525 Yonge St Lavishy Boutique for detail...
Lavishy- Mother's day gift idea plus Free Shipping on Apr 18, 2012 in lavishy, mother's day, gift idea, free shipping, loveMother's day is coming, celebrate your mom with these great idea for purse, wallet and more that can touch your mom's heart. We are now offering free shipping when you spend over $100. Please visit our site at www.lavishy.biz for detail.
Lavishy- Passport Wallet on Apr 12, 2012Geting ready for your trip? Use this passport wallet to keep your passport and currency. Many people found it very useful, plus we have variety of design.Come visit Lavishy Boutique today!Or online at http://www.lavishy.biz/55-7/55-706.htm...
Lavishy - Beautiful crystal earrings for spring on Apr 3, 2012Brighten your day with these colorful earrings!Please visit Lavishy Boutique or online at http://www.lavishy.biz/loulou/1204r.htm...