Lenzr Contest Blog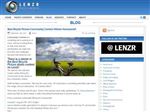 http://www.lenzr.com/blog
Lenzr blog discusses the art of using photo contest media to raise rankings in search engines, build brands and win customers.
Blog Posts
2012 Toronto.com Toronto Christmas Market Photo Contest on Nov 28, 2012Lenzr is back, and working well to provide visitors to Lowe's 2012 Toronto Christmas Market with everything they need to win a free dinner at one of three award winning Distillery District restaurants. The website is playing conduit to channel...
Some Discussion About 2012 on Nov 28, 2012 in UncategorizedI got tired in 2012 and took a break. more later...
Update for Lenzr Members on Feb 23, 2012Hello Lenzr members! As some of you are well aware, Lenzr was attracting some serious SPAM over the last couple months. It pained us to see the comments sections underneath your submissions bombarded with Canada Goose jacket ads coming from countries...