Evolving Wellness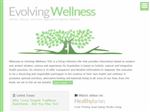 http://evolvingwellness.com
Evolving Wellness provides free articles, recipes and videos on natural, holistic and green themes for optimal health and wellness. Emphasis is on whole, natural, organic; plant-based nutrition, toxic-free lifestyles; balance of the mind, body and soul.
Blog Posts
Best Mind-Body-Spirit Wellness Books for Children on Oct 14, 2013Thanks to the awakening and shift in consciousness on our planet, today we can all enjoy a plethora of resources to enlighten, liberate and inspire us. This also includes resources for children, including numerous books that can teach children health...
Why I Love Organic Traditions Superfoods - And You May Too! on Sep 29, 2013Nutritional integrity, commitment to consumer health and environmental sustainability are today my top guiding priorities when it comes to products I am personally willing to use and companies I am willing to support. One such line of products comes...
Banana Coconut Cream Cake on Sep 23, 2013Characteristics This recipe provides a delicious, rich and creamy banana cake. This is a different spin on the traditional banana cake, which is commonly baked and includes many refined flour, fat and sugar ingredients. This banana cake is based on...
Submit Your Story! on Sep 21, 2013Do you have an inspirational story to share about your health and wellness? Have you overcome some health condition or challenge using diet, exercise or any natural therapies? Were you motivated to change your lifestyle and improve your well-being? S...
The Grain Dilemma on Sep 16, 2013Low-carb, high-carb, no carb, or gluten free? When it comes to grains, there are often conflicting recommendations and dietary trends, making for a challenge to sort out the facts from the hype. Can grains actually be not as healthy as once thought?
Cabbage-Zucchini-Apple Slaw Salad on Aug 26, 2013Characteristics This salad offers an excellent way to enjoy the seasonal benefits of late summer when cabbage, apples and zucchini are abundant from local or homegrown sources. It is a juicy blend of slightly sweet and sour flavors, with a hint of s...