Renovation help line The Reno coach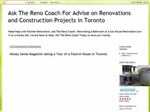 http://renovationhelp.blogspot.com/
The Reno Coach For Advise on Renovations & Construction Projects in Toronto Need Help with Kitchen Renovation, Ask The Reno Coach, Renovating a full House Renovation turn in to a money bid, we are here to help.
Blog Posts
Global News with Reiner Hoyer on Passive house Construction on Feb 21, 2013 in reiner hoyer, global news, passive house...
on Feb 17, 2013News Flash Don't miss Global News special on Passive House construction in Canada with The Reno Coach Reiner Hoyer on Thursday at 6:30pm Toronto time. Reiner Hoyer Direct Line 416-833-3...
Tour of a Passive House in Toronto on Oct 5, 2012...
Money Sense Magazine taking a Tour of a Passive House in Toronto on Oct 5, 2012...
Interview with Reiner Hoyer about his Passive House in Money Sense Magazine on Sep 20, 2012The home energy makeover Want to slash your monthly bills in half? These simple improvements will save you thousands on electricity, gas and water. By Mark Brown | From MoneySense Magazine, September/October 2012 Tags: e...
Bathroom Design on Aug 19, 2012 in wood sinks, wood tubs, Bathroom designWood Bathtubs are a luxury all on their own and can give any home, hotel or spa a very special talked about feature. The home spa is coming more and more into style as the baby boomer generation begins to retire. Affluent couples are looking towards...