Feed Your Console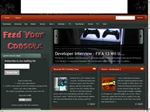 http://feedyourconsole.com
Canadian Video Gaming blog, full of Reviews, Event coverage and Hot News on all current generation gaming consoles and PCs.
Blog Posts
Saints Row 4 Live Stream: 6:30pm EST on Aug 17, 2013 in Default, PlayStation, PlayStation 3, Xbox, Xbox 360Check back here to see our live stream of Saints Row 4 […]...
Site Update on Aug 17, 2013It's been a long time readers and I'd like […]...
Gears of War Judgment EB Event on Mar 16, 2013 in Default, Xbox, Xbox 360This evening EB games Canada hosted an invite for 75 lucky winners to check out Gears of War Judgment and go hands on with Free for All with chances to play OverRun and be one five lucky individuals get to play the single player campaign. The event s...