SolOrwell.com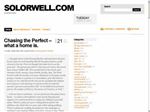 Blog Posts
Carving out your own niche, bit by bit. on Aug 13, 2013 in ManagementSo we've had a fun 3 weeks. Our S-G Reference keeps selling, our traffic keeps growing, and things look good. My biggest fear is that we forget that while we know stuff, there is a lot more we don't know. A nice problem to have. But not w...
Dr. Oz: this is too funny not to mention on May 27, 2013 in UncategorizedOver on Dr. Oz's blog, a post went up late last week titled: You Wanted to Know: Sweeteners. For those that follow Eaxmine.com, you know that our viewpoint is that sweeteners are fine for you (note: just because something is not "bad̶...
Big week for Examine.com and why I do what I do on Apr 28, 2013 in Making the Monies, Sweet 2.0Big Week for Examine.com Last week, Examine.com announced its Human Effect Matrix, which "solves over 90% of supplement confusion." The response was staggering, to say the least. Some quick numbers: 100,000 visitors over baseline (so e.g.
Confirm confirm confirm (vs undo) on Feb 9, 2013 in Uncategorized"Confirm X action?" A quick little complaint, but confirming every single action (particularly during deletions) is a slow and cumbersome UI approach. The smarter approach is to let the user do it, but then let them undo it. Is it more wo...