Ask Robby G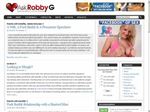 http://www.shiteilike.com/
I publish posts that focus on the crucial ingredients to a successful lifestyle and important aspects of everyday life that I believe are essential to creating an atmosphere of confidence and natural appeal.
Blog Posts
THIS SITE IS FOR SALE! on Mar 4, 2013 in MiscellaneousHello there. I have been updating this blog here for over 3 years and I must say my heart is simply not in it anymore. I would like to sell this site off to someone who has the time and determination to keep it going. There was a minor glitch in the...
A Wife, A Fuck Buddy & A Premature Ejaculator on Jan 22, 2013I am a married woman for the past one year and I realised my husband loves me but he has issues while having sex like premature ejaculation. This used to leave me unsatisfied. However,I came across an unmarried man in my office whom I got instantly c...
Looking to Mingle? on Jan 17, 2013 in ReviewsAsk Robby G is a community where both men and women come to in order to ask their questions concerning dating and friends with benefits, or they scroll through and see if the type of question they have has already been answered. One thing that I am n...
Fuck Buddy Relationship with a Married Man on Jan 11, 2013I have read some of your articles regarding fuck buddies and they are very insightful. However, my situation is involving a married fuck buddy. We've been in fuck buddies relationship in the past 5 months and I knew from the beginning that ther...