BlogTO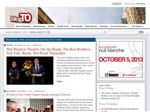 Blog Posts
F*cked Up's Long Winter series returns for 2nd season on Oct 16, 2013 in , MusicLong Winter is back, in case you haven't heard it from like, one of the bazillion excited Toronto indie fans who basically only have the Long Winter concerts and Christmas socks to look forward to until Neutral Milk Hotel in January (after which ther...
Get to know a Toronto startup: Candid on Oct 16, 2013 in , TechHistorically, one of the best ways to make money on the Internet has been through advertising. And yet with countless ads popping up on webpages and flooding our inboxes, it's no surprise we barely notice them. Considering the alternative, would you...
Aviation-themed cafe opens near Dupont & Spadina on Oct 16, 2013 in , AnnouncementsLocated near Dupont and Spadina, this new coffee shop serves up quality coffee and baked goods in a simple and relaxed setting. In keeping with the aviation-themed name and logo, a frequent flyer rewards card is available for repeat customers, but re...
Fall reflection on Oct 16, 2013 in , Photo of the DayPhoto by Matt MS in the blogTO Flickr pool.
Radar: imagineNATIVE, Glengarry Glen Ross, Descant 162, Reel Indie, Lesbian Haunted House on Oct 16, 2013 in , RadarToronto events on October 16th, 2013 CULTURE | imagineNATIVE Film + Media Arts Festival The imagineNATIVE film and media arts festival begins today, and brings a wide spectrum of works by indigenous Canadian filmmakers and media artists, both esta...
This Week in Fashion: World MasterCard Fashion Week, The Man Repeller book signing, Reia Sample Sale on Oct 16, 2013 in Toronto, Fashion & Style, Fashion & StyleThis Week in Fashion rounds up the week's style news, store openings and closings, pop-up shops, sales and upcoming fashion and design events in Toronto. Find it here every Wednesday morning. NEWS World MasterCard Fashion Week is just around the co...