Torontoist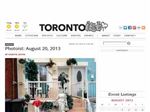 http://torontoist.com/
The Torontoist encompasses absolutely everything interesting related to Toronto, including news, arts, events, culture, transit, politics, photography, public spaces, food, and a whole lot more.
Blog Posts
I Want Your Job: Adam Lopez, Director of the Toronto After Dark Film Festival on Oct 16, 2013Toronto After Dark's director turned a childhood passion for cinema into a thriving film festival.I Want Your Job finds Torontonians who make a living doing exactly what they love to do, in any field, and for any salary, and asks them how they did it...
Sound Advice: Love Riddle by Clara Venice on Oct 16, 2013 in culture, "Sound Advice", Clara Venice, Love Riddle, musicThe new solo EP from Clara Venice is a delightful puzzle, but ultimately can't be solved.Love Riddle by Clara Venice Love Riddle, by pop artist Clara Venice, is a seemingly simple but intriguing puzzle box of an EP, a smooth and slick little musical...
Photoist: October 16, 2013 on Oct 16, 2013 in photos, hooman ziya, photoist. photosReflection...
Urban Planner: October 16, 2013 on Oct 16, 2013 in events, "urban planner"In today's Urban Planner: the imagineNATIVE festival kicks off, A Story Before Time brings a First Nationals creation myth to the stage, and a free swing concert.Film: Now in its 14th year, the imagineNATIVE Film + Media Arts Festival returns with a...
Newsstand: October 16, 2013 on Oct 16, 2013 in news, Matthew Daley, newsstandIs anyone else super disoriented right now? How is it Wednesday? How? And in the news today, a whole lotta news about the news itself: the Ontario Press Council has ruled that the Globe and Mail and the Toronto Star were not in the wrong for stories...