Beauty Crazed in Canada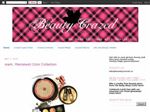 http://www.beautycrazed.ca
Two quirky girls from Toronto, Canada review products, trash fashion and generally have a good time with the world of beauty.
Blog Posts
This week I'm obsessed with... Buxom Full-On Lip Cream in Cherry Flip! on Oct 16, 2013 in Sephora, Weekly Obsession, lipgloss, Buxom, lip creamBuxom Full-On Lip Cream - $23 - a creamy lip gloss with no shimmer, glimmer or glitter just velvety-smooth color with intoxicating shine.With hyaluronic filling spheres that infuse lips with moisture for creamy soft perfection and the look of a fu...
30 Days of BCA - Day 15 - Wonderbra Special Edition Chantilly Lace Bra on Oct 15, 2013October is Breast Cancer Awareness Month when all our favourite brands will be coming out with special edition products that in some way, will benefit charities associated with the disease.A great thing all on its own - add in that many of the prod...
Sherson Group Spring Summer 2014 Collection on Oct 15, 2013The problem with getting a sneak peek at all the beautiful footwear coming up for the spring/summer season from Nine West, Enzo Angiolini, Anne Klein, Easy Spirit, Bandolino and Circa Joan & David is that it makes you want to forgo fall and winte...
Essie Winter 2013 Shearling Darling collection - with swatches! on Oct 15, 2013 in swatches, Essie, nail polish, Winter 2013Winter becomes a lot more bearable thanks to the rich hues of the Essie Shearling Darling collection. Inspired by the luxurious furs and cashmeres that are a winter necessity with textile comfort, meant for your fingers and toes!Available now at spas...