Horseshoes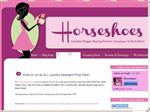 http://www.cdnhorseshoes.com
Horseshoes offers product reviews and giveaways plus much more! Horseshoes is written by Tania B - a married 34 y/o Canadian with a sick and twisted sense of humour, one cat, and a love of entering contests and the prizes that follow.
Tags: product reviews, giveaways, contests, sweepstakes, social media, humour, coupons, freebies
Subscribe:
Blog Posts
Win a LELO Soraya for International Women's Day! on Mar 7, 2013ELIGIBILITY: Worldwide, 18+ END DATE: March 8, 2013 March 8th is not truly recognized here in North America, however, in countries such as China, Nepal, Russia, Afghanistan, and Vietnam March 8th is known as International Women's Day. Strange, righ...
Enter to win 1 of 4 H&R Block online tax returns! on Feb 6, 2013END DATE: February 8, 2013 ELIGIBILITY: Canada only If you head on over to My Wee View right now, you could win your tax return done by the H&R Block online software. Who can't use a free tax return right about now, huh? Plus it's H&R Block...
Enter to win a Kaboo Tablet Bag! on Jan 29, 2013END DATE: February 5th at 11:59 PM EST ELIGIBILITY: US and Canada If you are like most folks these days, then you are carrying around a huge amount of different objects for your daily life. This makes things a little awkward and frustrating at...
Enter to win a Dr. Ho's Decompression Belt on Dec 29, 2012ELIGIBILITY: US and Canada END DATE: January 15, 2013 GIVEAWAY LINK Do you suffer from low back pain? I know I do and my hubby does also. There is nothing worse than that nagging aching and discomfort that comes from poor back alignment. So what do...
Win Hagensborg Chocolate! on Dec 11, 2012Enter to win Hagensborg Chocolate from Savvy Shopping, Deals & Reviews. This is open to Canada and ends December 16, 2012. Mmmmm chocolate!
Enter to win a Rembrandt and Reach Prize Pack! on Sep 18, 2012Everyone wants a whiter, healthy-looking smile, right? Well over at In My Opinion you can enter to win a prize pack from Rembrandt and Reach worth over $70! But you have to hurry because it will end September 18th @ midnight! Here's where you need t...