realia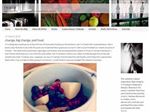 http://www.jensrealia.typepad.com
Realia is about finding stories and inspiration in a big city. I believe the world is a more beautiful place when more people tell their stories. Through my blog I hope to show that inspiration is everywhere, you just have to pay attention.
Blog Posts
christmas and the far is brought near on Dec 25, 2012Christmas Day with my family at Jeff and Carol's, and as always they lay on a fabulous spread and make us feel warm and welcome. Some of us were far away, in England, Alberta and USA. But, at one moment, we've got Ontario, Edmonton and Washington all...
lights on the city on Dec 19, 2012I don't take a lot of pride in working on Bay Street. I don't work for, or associate myself with the suits that surround me on the sidewalks every day. I despise the big banks that own the area, who happen to be among the richest companies in Canada...
seeing lights on Dec 18, 2012When I was a kid we put up our Christmas tree on or around my sister Jane's birthday on the 19th of December. Happy then over the holidays I would sit in the family room with its green shag carpet and turned down lamps and temporary pine smell, and s...