Lyriqs Lounge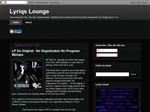 http://www.lyriqslounge.com
Discussing the City, Hip Hop, Relationships, Celebrity and a whole lot more from the perspective of a Single girl in T.O.
Blog Posts
That's All Me on Aug 18, 2013 in Music, Relationships, RandomIt's been awhile so I have so much to say! Lets begin with the fact that I'm 5 month preggers!!! ya I know its crazy right?! I'm really happy and excited too. The baby wants to keep us in suspense though, so we still don't know boy or gir...
Spring is in the Air on Apr 6, 2013 in Music, Relationships, RandomSpring is in the air, I know because... #1 Suddenly single men everywhere have started to come out of the wood-works! #2 My eyes are swollen, nose is stuffy, and the misery of hay fever has already begun -_- #3 The sun is out early and stays...
Goodbye January on Jan 31, 2013 in Relationships, RandomSo it seems that January has come and gone already and without much to report. Still seeing Mr Wonderful!! You know that that is some kind of record for me... by now it is usually time for some colossal plummet from the hig...
2012 Recap on Dec 4, 2012 in Relationships, RandomIt's not too early to do a recap of this year is it?! As if I follow the status quo on anything -_- My motto: Carpe diem! Can't believe that we are at the end of yet another year. That is truly crazy! And so much has happened...
Can we talk K Ro... on Nov 25, 2012 in MusicMs Kelly Rowland is doing it big right now, no doubt about it! Being called the new Ne-yo, TPain and Nate Dog (RIP) of Rnb. She is on everybody's tracks including Sean Paul, Big Boi, Luda... she's in Trey's Heartbreak video and has two ho...
Leap of Faith on Nov 11, 2012 in Music, RelationshipsSo as a self proclaimed realist and super practical woman, taking risks can be difficult. Also as someone that has had her fair share of heartache, diving in doesn't come easy no matter how sweet Trey makes it sound. However I also like t...