!! omg blog !!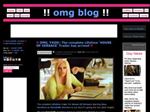 Blog Posts
OMG, white on white, translucent glass pipes: Bauhaus' Peter Murphy pleads guilty to meth posession in hit-and-run, faces 3 years probation on Oct 16, 2013 in Musical, Unfortunate"Bela Lugosi's Dead" and "Stigmata Martyr" are totes our jams round this time of year, and it makes us sad to think that former Bauhaus frontman, Peter Murphy has been "fuckin' with that Tina", so-to-speak! Murphy was caught after a hit-and-run on S...
OMG, his butt AGAIN!: A beefier Zac Efron in 'That Awkward Moment' on Oct 16, 2013 in CandyZefron is no stranger to showing cheek before, but his new film 'That Awkward Moment' promises even more of Zac! Check him out after the jump, and let the "what I would give to be that..." jokes BEGIN!OMG there's more! READ THE REST...
OMG, kitty you scared me!: An 'It's Just A Cat' moment from Horror movies SUPERCUT on Oct 16, 2013 in Funny, Hey BooThe folks over at Slackstory threw together this awesome supercut of all the moments in a film when a kitty scares you as a trade-off to getting shanked! Phew! Can haz second chance at life and more screen time? Take a look at some of the most cat-ta...
OMG, he's naked: Former OLTL actor and Chris Evans' brother Scott Evans on Oct 15, 2013 in CandyScott Evan's used to play a gay cop on One Life To Live, but he's also appeared on shows like Law & Order and White Collar. Scott happens to be actor Chris Evan's younger brother, and some racy selfies of Scott appeared online recently. You can check...
OMG, how spooky: Damiana visits a haunted house on Oct 15, 2013 in Funny, Tranny FiercenessIn preparation for Halloween, intrepid lady reporter Damiana Garcia goes to visit an old haunted mansion inhabited by seasoned Hollywood veteran Tanya Roberts (played by Drew Droege). The tour starts out normally enough, but things get weird in the b...
OMG, a 90s throwback: DJ David Morales and some dancers lose their sh*t on MTV's 'The Grind' on Oct 15, 2013 in Camp, Musical, Pop, Time MachineBack in the late 90s when MTV would never have dreamt of putting shows like 16 And Pregnant or Jersey Shore on the air, were still programming musical content, and back before the newly formed all-encompassing EDM genre for America was created -- Hou...